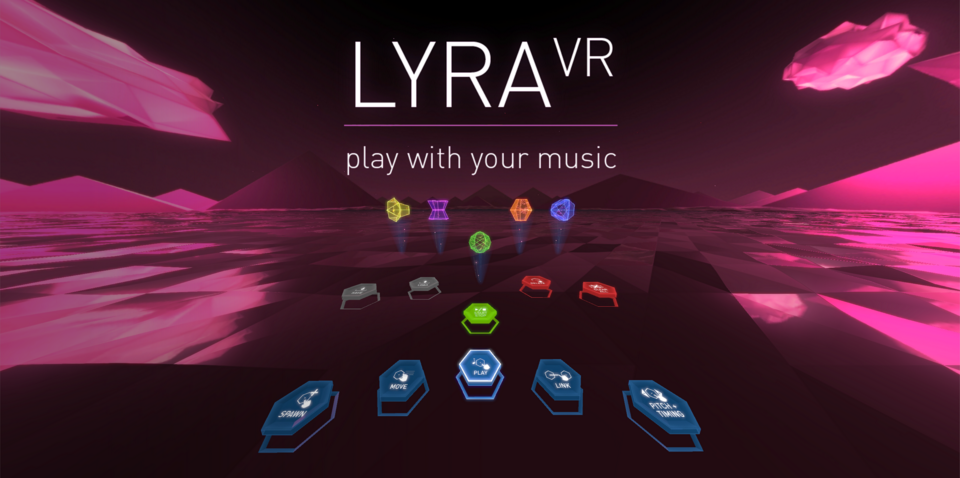 Lyra

Lyra is a playground for musicians to experiment in without real world limitations.

Build fantastical music sequences with your bare hands, creating visual symphonies that you can fully immerse into. For the first time ever, jump into the music you've created and experience your masterpiece in a spectacular audio, visual sensory orchestra.
Like what we do?
Follow us on:
Sign up for our newsletter where we announce news about the project: http://lyravr.com
Enjoy the experience and kindly leave any feedback you may have so we can improve our app!
Music loops by MoShang
Drum loops provided by thelooploft http://www.thelooploft.com/
Marimba instrument sounds CC-BY Samulis
---
HARDWARE REQUIREMENTS

Oculus Rift DK2
Leap Motion
RECOMMENDED
NVIDIA GTX 970 / AMD 290 or greater
Intel i5-4590 or greater
8GB+ RAM
Headphones are not required but they drastically improve the experience!
SOFTWARE REQUIREMENTS
Oculus Runtime 0.7+
Leap Motion 2.3.1+
---
INSTRUCTIONS

Use your hands to interact with the world. Each object represents a sound.
Library objects are the permanent objects in front of you.
They are where your objects will be spawned from.
Your hands do different things depending on which mode you're in.
R key to recenter camera
ESC key to exit application
MODES:
PLAY
Touch an object to audition the audio attached to the object.
SPAWN
Touch a library object to spawn an object with the instrument sound of the library object touched. You must spawn the START object (colored in green) and link it to another object to create a playable sequence.
MOVE
Use your hands to reposition objects. Library objects cannot be moved.
LINK
Put your hand through the initial object you want to link from and move your hand onto the next object you want to link to. Links connect audio from one object to another so they play in sequence.
PITCH+TIMING
Put your hand through an object and change the pitch of the object by touching one of the side buttons with the + or – sign.

You can change the BPM by touching the center green object with the label Control.
Touch the links to change the steps.
START/STOP
Touch this button to play the audio sequence. The sequence starts from the START object (colored in green).
---
TIPS
Standing or sitting experience. Standing is highly recommended.
Use R key to recenter camera to get better position.
To improve tracking of your hands, dim your lights and stay away from reflective surfaces (ie. mirrors, windows). It also helps to reduce outside lighting (ie. Sun) as much as possible, and to remove any jewelry or other items on your hands.
---
CHANGE LOG

[0.05]
New Features:
links indicate direction
adjust volume per node
key and scale selection for note entry
adjust values faster by jumping in large increments
all buttons require a double press to prevent accidental activation
Bug fixes:
evened out volume when previewing notes
when creating a new node off an existing one, any notes ringing out on the parent would retrigger
in link mode after selecting a parent the temp link would attach to mode buttons when changing mode
a long link that's already active and counting down to trigger doesn't trigger a node if another link triggers the same node before the countdown ends